Skeed at the heart of the competition!
Posted 07/06/2016 / Skeed World
Where does Skeed come from ?
Skeed's role among two wheelers: a brand created by those passionate about raising awareness and protecting motorcyclists, from the scooter rider to the seasoned two-wheeler.
Our battle to protect motorcyclists' skin started after the prohibition to wear clothes with a synthetic lining on motorcycle race tracks during competitions.
Skeed is the fruit of a meeting between the French Motorcycling Federation (FFM) and the development manager at Kermel, the textile company specialising in fire resistant fabrics. From these two motorcycling enthusiasts, a brand blending technology and innovation was born. What has made us so strong for the past 7 years is our desire to protect motorcyclists' skin, reinforcing the relationship that we have with high-level riders.
Experiencing motorcycling passion with Skeed
We have worked in close collaboration with many people: Nicolas Salchaud for the Team Viltaïs who compete in the Superbike, Cédric Tangre who is ranked in Supersport with the team Yohann Moto Sport and Julien Da Costa who has won many EWC endurance races and is today a member of the Honda Endurance Racing Team. We have a strong relationship with them as they are the best ambassadors of our products today; designed for motorcycling professionals and aficionados by a team of enthusiasts.
Our brand, recognised by professionals, is ever present on the competition scene. Our role is to "prevent rather than cure". We are here to inform and educate motorcyclists, whether experienced or young drivers, speed fans or daily users, of the risks of burning during a fall and the protection that Skeed can offer them.
Today, we are the only ones with a standardisation from theFFM/IMF and products with Kermel technology, offering a material that does not burn or melt and allows great body heat regulation. We are the first and only brand to have obtained the authorisation to participate and intervene in technical tests before races as well as rider briefings in certain championships.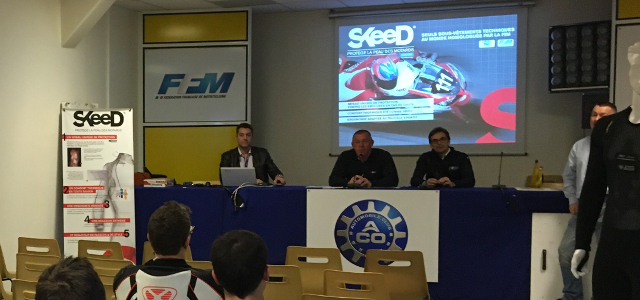 Presentation of Skeed at the opening of the FSBK Championship on the Le Mans circuit in April 2016
Our partnerships
This year we are once again renewing our partnership with the FFM and the IMF in order to continue our prevention campaign and to always be as close as possible to passionate motorcycling enthusiasts, whatever their level.
Objective for 2016-2017:
To further develop our partnerships with the organisers of test days, such as 4G Moto and the main circuits in France
To raise awareness about the risk of burns due to the overheating of a motorcyclist's suit or equipment during a fall and a motorcycle skid
To promote the existence of our technical protective clothes and underclothes, suitable for all types of occasions: undersuits, t-shorts, leggings and tights
To provide a real driving experience with 100% motorcycle-inspired products
You've got it: Skeed is, above all, a brand brought to you by safety-conscious motorcycling enthusiasts!
---